Why Join HBA of Central Louisiana?
Exposure & Referrals
• Online Member directory
• New redesigned website at hbaofcenla.org
​​
HBA Motto "Do Business with Member"
HBACL actively promotes doing business with a member and offering referrals to the general public.
​
Member Discounts & Rebates
​
Advocacy Efforts - State & National Level
• LHBA advocacy saved members an average of $5000
     annually
• NAHB advocacy saved members an average of $5950
​
Networking Opportunities
• Quarterly local general membership meetings
• Quarterly State meetings
• Continuing education trainings
• Member participation in special events
     (Home Show, Golf Tournament, Skeet Shoot)
​
Member Only Insurance Programs
• LHBA Self-Insured Fund – Workers' Comp
• LHBA General Liability
• HBA Builders Risk Insurance
LOCAL
Home Builder's Association of Central Louisiana
The Home Builders Association of Central Louisiana brings together the major players in the Louisiana area housing industry.  Our membership includes builders, contractors, remodelers and developers as well as sales and marketing experts, architects, trade contractors, product suppliers, and providers of financial and other industry services.
​
Each educational opportunity is part of the strategy to maintain a competitive edge. Take advantage of the educational opportunities offered throughout the year to obtain needed continuing education units or ways to improve your business.
​
To become a member of HBACL, you may contact a representative by calling 318-443-1902 or by submitting the membership application. Click the join button on the home page.
STATE
Louisiana Home Builder's Association
LHBA advocacy saves members an average of $5,000 annually on issued related to New Home Warranty Act, copper theft, evictions, workers compensation and loan closing.
​
Member Discounts & Rebates
Do you buy office supplies, building supplies, or computers, rent cars, send packages, or need insurance?  Member discounts and rebates can put more cash back in your pocket and can PAY for your membership.
​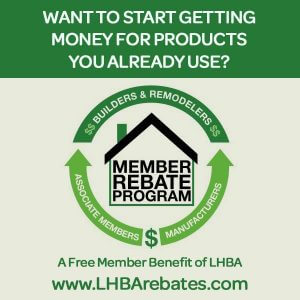 Free Member Benefit to Builder & Remodeler Members of the Louisiana HBA
(click to learn more)
Exposure & Referrals
The HBACL actively promotes doing business with a member, to other members as well as the general public.  We offer referrals using our member directory, and by offering free & low cost advertising to our members.
NATIONAL
National Association of Home Builders
Some of the discounts offered through membership are:
Lowe's– additional 5% on purchases and free delivery

GM- $500 on most Buick, GMC, and Chevrolet vehicles

UPS– discounts up to 36% on shipping services

Office Depot– 10% off all delivery orders. Free shipping / $50 or more

AT&T, Verizon, Sprint & T-Mobile– up to 30% on phone plans

Dell – up to 30% off on all computers

Hewlett Packard– 9% notebooks, 5% printers/scanners, 7% handhelds

Hertz, Budget- up to 20% off on rental cars

Avis– up to 25% off rental cars

Endless Vacation Rentals– 25% discount on over 200,000 vacation rentals worldwide

Geico – discounts on auto and homeowners insurance